Caesar Kalinowski shares the secret to living a life of mission and discipleship.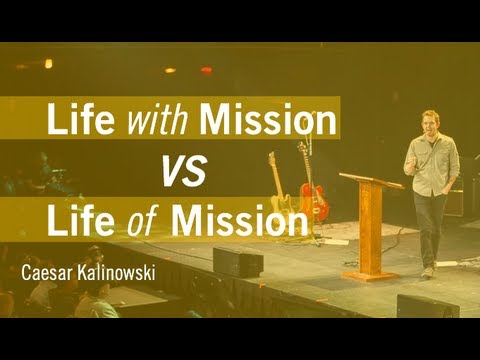 He says, "Often we think of [discipleship and mission] as like it's this crazy, disjointed thing. 'I don't know how I'm going to fit it in my life, all this missional stuff. I'm so freaking busy. How would I possibly fit it in my life.'  I want to suggest today that we need to change our thinking about discipleship…
We need to move from a mindset of additional to intentional. What if God has actually given us this amazing way of seeing life that would make all of life one big, huge opportunity for discipleship and mission? Like everything we're already doing, what if it's already an opportunity, perfectly for discipleship and mission? He has. It's the rhythm of life that he's placed us in.
Discipleship is not this set of activities or classes that we need to take. God has actually built the world and everything we're about and everyone you know is in the same rhythm and it's perfectly set up for us to live this way."
Life [with] Mission vs Life [as] Mission
Want more helpful missional resources?
Stay connected to the best Verge content – for free! Join thousands of innovators who get fresh content each week:

*We hate spam – click here to see our privacy policy.
Take the conversation further…
We'd love to know your thoughts on this post.
Meet us over at Twitter and Facebook to join the conversation right now!